Mending broken Britain – our article in Chatham House's The World Today looks at Britain's prospects one year after the riots
7 Jun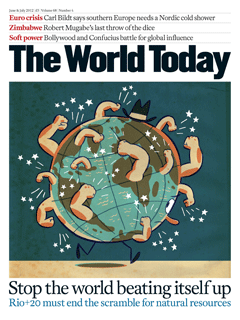 I co-wrote with Nigel Hall this article published in the latest Chatham House quarterly magazine The World Today.  This is one year on from our original article here  – see earlier blog post 'We called it right on the riots' – which was about our common concern that growing pressures in society together with unprepared government/police services were likely to result in near-term multiple outbreaks of civil disobedience that would overwhelm the capacity to contain them.
Images of the riots that broke out in Britain last summer ricocheted around the world. For many they were proof that the country was broken. Prime Minister David Cameron said they were the result of decades of progressive moral decline. Ian Duncan Smith, the Work and Pensions Secretary, who has spent years focusing on welfare issues, said Britain was 'in the last chance saloon' before irretrievable social break-down. Today the country is awash with reports and initiatives, but little changes. 
Last summer's events were a manifestation of a wider international phenomenon. There is a growing sense of grievance across nations about the unfair distribution of the economic gains of globalization. The rich are getting richer even during the height of recession.
Having accurately predicted last year's disorder, we look beyond the knee-jerk political reactions and take a longer-term view The key message is that Government, society, and citizens – each of us – has to be bolder.

In a 21st century interconnected society,these issues are more serious than before as the cohesion of society is the centre of gravity of our security and prosperity. In scale of ambition, the Government needs to match the most social reforming Victorian governments.  We need to echo the greatest of Victorian 'tricks' – bringing together the drive of the wealth and job creators with a near-universal belief in the potential of every individual…
Read the rest of the article here